RETURN TO THE FORUM AUDITORIUM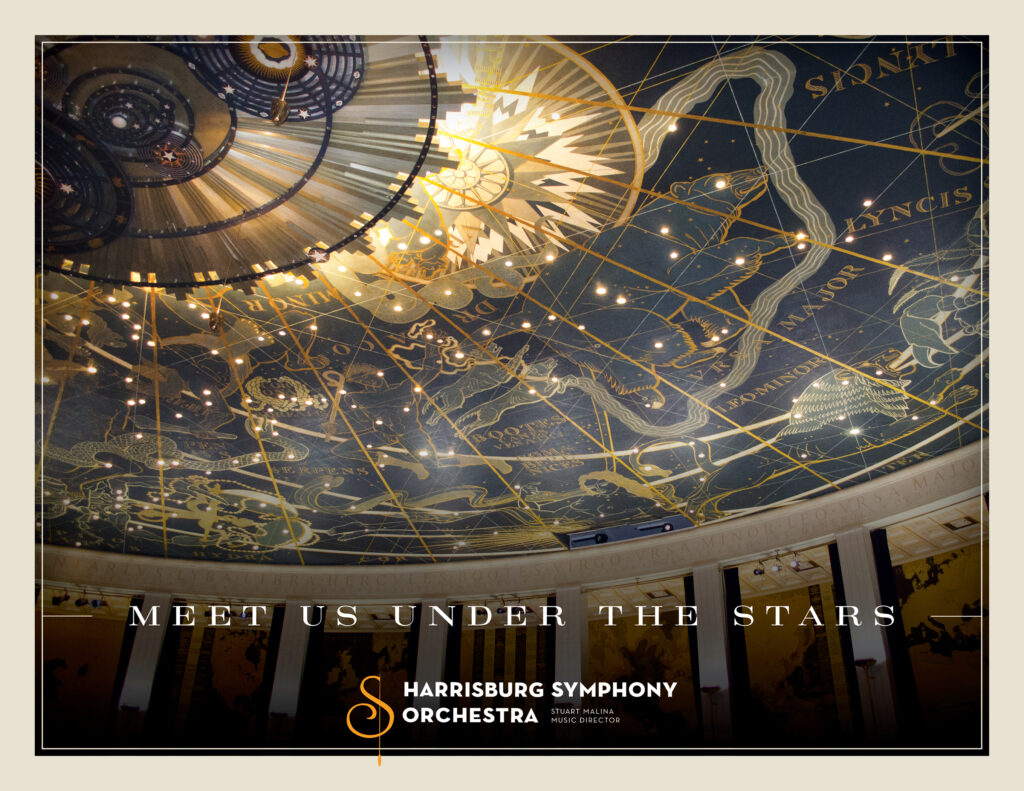 HARRISBURG SYMPHONY ORCHESTRA ANNOUNCES ITS RETURN TO THE FORUM AUDITORIUM IN THE FALL
Harrisburg, PA (March 11, 2022) – The Harrisburg Symphony Orchestra (HSO) is pleased to announce its 2022-2023 season of live orchestral performances will return to the historic Forum Auditorium in October 2022.
"We'd like to thank the splendid Scottish Rite Theatre for opening their doors to our patrons and musicians while the Forum Auditorium was undergoing renovations," said Matthew Herren, executive director of the orchestra.
"Returning to the Forum Auditorium promises to be a joyous reunion," Herren continued. "We can't wait for our patrons to once again 'meet us under the stars' for powerful performances with world-renowned guests and our own extraordinary musicians."
The theme "Meet us under the Stars" refers to the Forum Auditorium's decorative ceiling of zodiac constellations and more than 1,000 stars from the night sky, a treasured feature of the hall.
The 2022-2023 season of Masterworks and Pops programming will be announced later this year. For tickets and more information about the current season, go to the orchestra's website at harrisburgsymphony.org.
"The Harrisburg Symphony Orchestra has filled the Forum Auditorium with world-class music for nearly a century," said Troy Thompson, director of communications for the Pennsylvania Department of General Services, which operates the facility. "We are happy to welcome the HSO and its patrons back to their historic home."
The Harrisburg Symphony Orchestra presents inspiring symphonic music performed by its professional orchestra along with educational programs for audiences of all ages to enrich the cultural life of Central Pennsylvania. This regional jewel of talent is made up of 75 world-class musicians and led by Tony Award-winning conductor Stuart Malina. The Harrisburg Symphony has been providing symphonic music for the enjoyment of the region for more than 90 years.
# # #