HARRISBURG SYMPHONY ANNOUNCES THE RETURN OF ITS POPULAR, FREE SUMMER CONCERT SERIES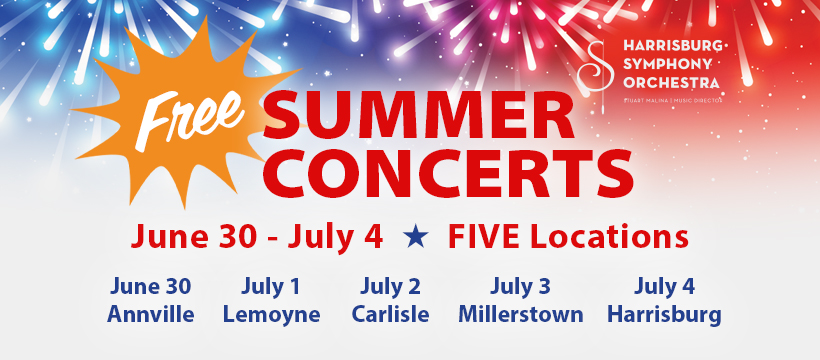 The Harrisburg Symphony Orchestra (HSO) is pleased to announce the return of its Summer Series, five free concerts held June 30 to July 4, 2023 at outdoor venues across the region. The concert schedule is as follows:
Friday, June 30, 8:00 p.m. – Lebanon Valley College, Annville (101 N. College Ave
LVC Quad, in front of Bishop Library)
Rain Location: Lutz Recital Hall, Blair Music Center, LVC
Saturday, July 1, 8:00 p.m. – Negley Park, Lemoyne (418 Cumberland Road)
Rain Location: The Forum Auditorium, 500 Walnut Street, Harrisburg
Sunday, July 2, 8:00 p.m. – Dickinson College, Carlisle (Campus Quad/Old West, 230 Louther Street)
Rain Location: Anita Tuvin Schlecter Auditorium, 360 W Louther Street, Carlisle
Monday, July 3, 7:30 p.m. – Millerstown Park, Millerstown (110 W Juniata Parkway)
Rain Location: Greenwood Middle/High School, 405 Sunbury St, Millerstown
Tuesday, July 4, 7:30 p.m. – Reservoir Park, Harrisburg (100 Concert Drive)
Rain Location: The Forum Auditorium, 500 Walnut Street, Harrisburg
"For over 30 years, the Harrisburg Symphony's Summer Series has offered a crowd-pleasing selection of red, white and blue favorites held in beautiful local settings," said Matthew Herren, executive director of the HSO. "We invite everyone in the community to grab your lawn chairs, a picnic basket and the kids for a free concert to celebrate America and American music," continued Herren.
"Our Summer Series is underwritten by Highmark and Penn State Health, and each concert has a unique group of local supporters. Our goal is to bring communities together for these concerts and our list of corporate, foundation, and individual sponsors and donors is evidence of true collaboration," says Patricia Ferris, HSO board president.
Each concert is held outdoors. In case of inclement weather, including excessive heat, the shows will be performed in an indoor location that will be announced on the Harrisburg Symphony's website and social media channels, as well as local media.
"Everyone loves the Summer Series, especially the musicians," said Stuart Malina, music director and conductor for the HSO. "This year's playlist ranges from a salute to the Big Band Era and West Side Story to a tribute to America's Armed Forces, along with a few rousing cowboy songs. Each year, we offer a little something for everyone."
The Harrisburg Symphony Orchestra presents inspiring symphonic music performed by its professional orchestra along with educational programs for audiences of all ages to enrich the cultural life of Central Pennsylvania. This regional jewel of talent is made up of 75 world-class musicians and led by Tony Award-winning conductor Stuart Malina. The Harrisburg Symphony has been providing symphonic music for the enjoyment of the region for more than 90 years. For more information, visit the Symphony's website.
# # #