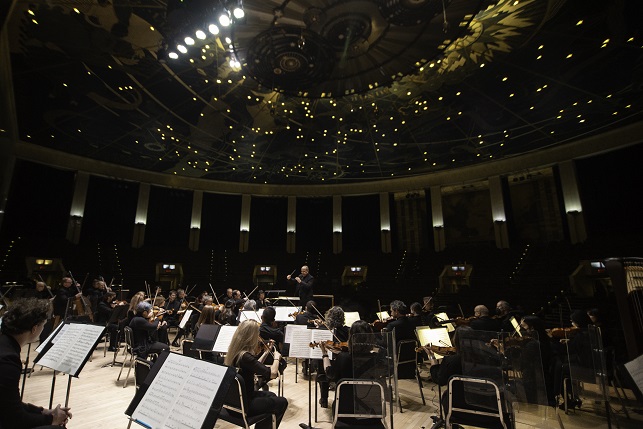 Maestro Stuart Malina to Conduct Harrisburg Symphony for Three More Years
New Board Members Announced
For Immediate Release
[Harrisburg, PA] – The Harrisburg Symphony is pleased to announce that Maestro Stuart Malina has agreed to a three-year contract extension as music director and conductor of the orchestra.
"I'm thrilled to be in Harrisburg with our extraordinary orchestra," Malina said. "To me this is a very special organization, which combines superb board and staff leadership with superb musicians who play with intensity, commitment, and joy at every single performance."
Malina began his tenure with the HSO in June 2000. His new contract will take him through the 2025-2026 Season, which will be his twenty-sixth year as the orchestra's artistic leader.
"Our relationship with Stuart Malina has been an especially happy one for everyone here in Harrisburg—our audiences, our musicians, our Board, and our staff," said Patricia Ferris, HSO board chair. "I think I speak for everyone when I say that we are thrilled to extend this partnership for three more years. Stuart is a great musician and a pleasure to work with."
"I look forward to three more artistically invigorating years with Stuart," says Matthew Herren, HSO Executive Director. "We have an ideal working relationship, and I can't wait to see where we will go next."
The Harrisburg Symphony Association is pleased to announce the appointment of two new board members, whose terms commenced July 1.
Elizabeth Mullaugh, Attorney of Counsel, McNees, Wallace & Nurick
Christyan Seay, Artistic Director, Capital Area Music Association
"I am delighted to welcome Elizabeth and Christyan to the Harrisburg Symphony Association Board of Directors," said Patricia Ferris, Board Chair. "They are committed to our mission, and they have deep roots in our community combined with notable experience in leadership and service."
The Harrisburg Symphony Orchestra was founded in 1931 and is now in its 94th season at the Forum Auditorium in Harrisburg, PA. The fully professional ensemble performs under the direction of Tony Award-winning Music Director and Conductor, Stuart Malina. The Symphony also presents an extensive music education program that includes concerts for school age children, in-school residencies, and the Harrisburg Symphony Youth Orchestras, which are comprised of approximately 150 elementary, middle, and high school students. The Harrisburg Symphony is governed by a 24-member Board of Directors and receives additional philanthropic support from the Harrisburg Symphony Society.
###