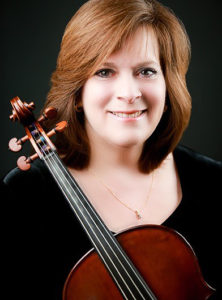 Marjorie Goldberg was raised in Philadelphia. She is a graduate of the Hartt School of Music and is a Suzuki Certified instructor. Marjorie is currently a member of the Harrisburg Symphony and the Philly Pops.
A devoted educator, Marjorie currently teaches violin, viola and ensembles at Waldron-Mercy Academy as well as private lessons and string methods at the University of the Arts in Philadelphia. Marjorie has performed with Josh Groban, the Trans Siberian Orchestra as well as countless other headlining stars in Atlantic City and on tour.
Marjorie is married to Jonathan Fink, a cellist with the Harrisburg Symphony. Jon and Marjorie live in Philadelphia with their two children.